On my noticeboard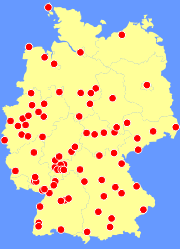 From time to time, people send me items that I put up on the noticeboard you can see behind me in some of my videos. These maps and the list below show where I have received items from.
If your area isn't represented here, I would be delighted to receive something. It can be a picture postcard, or anything that you feel represents your area, can be pinned to a noticeboard and can be sent in a standard envelope.
The address to send me items is:
Rewboss
Postfach 10 06 29
63704 Aschaffenburg
Germany
Please note that I can only accept letters and postcards. Please don't send me any parcels or packages, and please don't send me anything that would have to be signed for.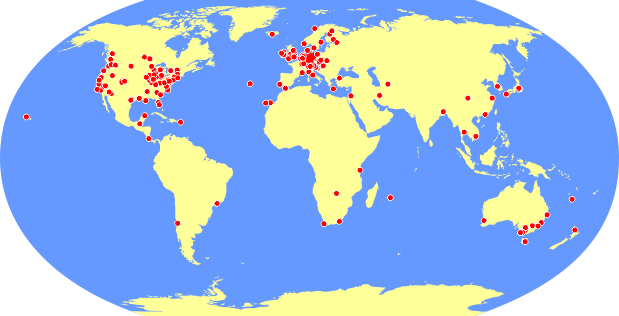 Aachen, Germany
Adelaide, South Australia, Australia
Algermissen, Germany
The Allgäu, Germany
Alp Grüm, Switzerland
Altmühltal Nature Park, Germany
Amédée Island, New Caledonia
Amsterdam, Netherlands
Antwerp, Belgium
Arlington, Virginia, USA
Aschaffenburg, Germany
Aşgabat, Turkmenistan
Auckland, New Zealand
Augsburg, Germany
Austin, Texas, USA
Avalon, California, USA
Babenhausen, Germany
Bad Bergzabern, Germany
Bad Birnbach, Germany
Bad Steben, Germany
Bain Boeuf, Mauritius
Ballarat, Victoria, Australia
Bangladesh
Bangmod Thungkru, Thailand
Basel, Switzerland
Bavaria, Germany
Bendigo, Victoria, Australia
Berlin, Germany
Bethesda, Maryland, USA
Black Forest, Germany
Boston, Massachussetts, USA
Braunschweig, Germany
Bremen, Germany
Bright, Victoria, Australia
Brugge, Belgium
Brussels, Belgium
Budapest, Hungary
Bussum, Netherlands
Camogli, Italy
Cape Town, South Africa
Cardiff, UK
Castillo San Cristóbal, Puerto Rico
Castrop-Rauxel, Germany
Ceuta, Spain
Champaign, Illinois, USA
Chemnitz, Germany
Chengdu, China
Chicago, Illinois, USA
Chur, Switzerland
Cincinnati, Ohio, USA
Coburg, Germany
Cologne, Germany
Corbin, Kentucky, USA
Darmstadt, Germany
Donegal, Ireland
Door County, Wisconsin, USA
Dornburg, Germany
Dresden, Germany
Düsseldorf, Germany
East London, South Africa
East Stroudsburg, Pennsylvania, USA
Echuca, Victoria, Australia
Edinburgh,UK
Eisenach, Germany
Enschede, Netherlands
Erfurt, Germany
Esfahan, Iran
Essen, Germany
Fargo, North Dakota, USA
Feøy, Norway
Flieden, Germany
Fort Wayne, Indiana, USA
Frankfurt am Main, Germany
Freiburg im Breisgau, Germany
Fuerteventura, Canary Islands, Spain
Fulda, Germany
Garden of the Gods, Colorado, USA
Glencolmcille, Ireland
Glenville, New York, USA
Goes, Netherlands
Görlitz, Germany
Goslar, Germany
Göteborg, Sweden
Gotha, Germany
Göttingen, Germany
Grand Canyon, Arizona, USA
Graubünden Canton, Switzerland
Graz, Austria
Guildford, UK
Hamburg, Germany
Hamm, Germany
Hermann, Missouri, USA
Hays, Kansas, USA
Heidelberg, Germany
Helen, Georgia, USA
Hobart, Tasmania, Australia
Hohenfels, Germany
Hong Kong, China
Hoorn op Terschelling, Netherlands
Hoover Dam, Nevada, USA
Houston, Texas, USA
Hvide Sande, Denmark
Istanbul, Turkey
Jerusalem, Israel
Juist, Germany
Jupiter, Florida, USA
Kailua-Kona, Hawaii, USA
Kaiserslautern, Germany
Kampen/Sylt, Germany
Kansas City, Missouri, USA
Karlsruhe, Germany
Kehl, Germany
Kempen am Niederrhein, Germany
Kent, UK
Kingston, Ontario, Canada
Klingenberg am Main, Germany
Koblenz, Germany
Kołobrzeg, Poland
Lahti, Finland
Lakewood, Colorado, USA
Lamar, Missouri, USA
Landau, Germany
Landstuhl, Germany
Leavenworth, Washington, USA
Leipzig, Germany
Leeds, UK
Lindisfarne, UK
Loket, Czech Republic
London, UK
Long Island, New York, USA
Los Angeles, California, USA
Louisville, Kentucky, USA
Madison, Wisconsin, USA
Magdeburg, Germany
Manchester, UK
Manassas, Virginia, USA
Maple Glen, Philadelphia, USA
Marktredwitz, Germany
Marseille, France
McBride, British Columbia, Canada
Medford, Oregon, USA
Memphis, Tennessee, USA
Milwaukee, Wisconsin, USA
Minden, Germany
Modautal, Germany
Monroe, Michigan, USA
Mousehole, UK
Munich, Germany
Münster, Germany
Nagasaki, Japan
Naumburg (Saale), Germany
Nelson Bay, New South Wales, Australia
Neukirchen beim Heiligen Blut, Germany
New Orleans, Louisiana
Nidderau, Germany
Nimbin, New South Wales, Australia
Nuremberg, Germany
Oberwiesenthal, Germany
Offaly, Ireland
Offenbach, Germany
Olsbrücken, Germany
Orlando, Florida, USA
Otzberg, Germany
Oulu, Finland
Paris, France
Peninsula State Park, Wisconsin, USA
Perth, Western Australia, Australia
Petaluma, California, USA
Phoenix, Arizona, USA
Pikes Peak, Colorado, USA
Pittsburgh, Pennsylvania, USA
Platanar, Costa Rica
Portland, Oregon, USA
Prague, Czech Republic
Radolfzell, Germany
Reims, France
Reine, Norway
Rethymno, Crete, Greece
Rheine/Ems, Germany
Rheinfelden, Switzerland
Rösrath, Germany
Rostock, Germany
Rothenburg ob der Tauber
Rovaniemi, Finland
Royal Tunbridge Wells, UK
Saigon, Vietnam
Salt Lake City, Utah, USA
Salzburg, Austria
San Antonio, Texas, USA
San Francisco, California, USA
Sankt Wolfgang, Austria
Santiago, Chile
Savannah, Georgia, USA
Schallaburg, Austria
Seattle, Washington, USA
Senden, Germany
Seoul, South Korea
Sete Cidades, Portugal
Shanghai, China
Siegen/Westfalen, Germany
Sintra, Portugal
Soest, Germany
Sorocaba, Brazil
Southey, Saskatchewan, Canada
Springfield, Missouri, USA
St Leon-Rot, Germany
St Louis, Missouri, USA
St Petersburg, Russia
Štramberk, Czech Republic
Stuttgart, Germany
Sydney, New South Wales, Australia
Sylt, Germany
Tarnów, Poland
Tenerife, Spain
Tikal, Guatemala
Tokyo, Japan
Topsail Island, North Carolina, USA
Toronto, Ontario, Canada
Trenčín, Slovakia
Trier, Germany
Tucson, Arizona, USA
Tulum, Mexico
Uppsala, Sweden
Vancouver, British Columbia, Canada
Varel, Germany
Vatican City
Victoria Falls, Zimbabwe
Vienna, Austria
Wacken, Germany
Waiblingen, Germany
Warendorf, Germany
Warrensburg, Missouri, USA
Weatherby, UK
Weil der Stadt, Germany
West Point, New York, USA
Winnipeg, Manitoba, Canada
Wolfsburg, Germany
Woodside, California, USA
Wrocław, Poland
Wuppertal, Germany
Würzburg, Germany
Yellowstone Valley, Montana, USA
Yokohama, Japan
Zanzibar, Tanzania